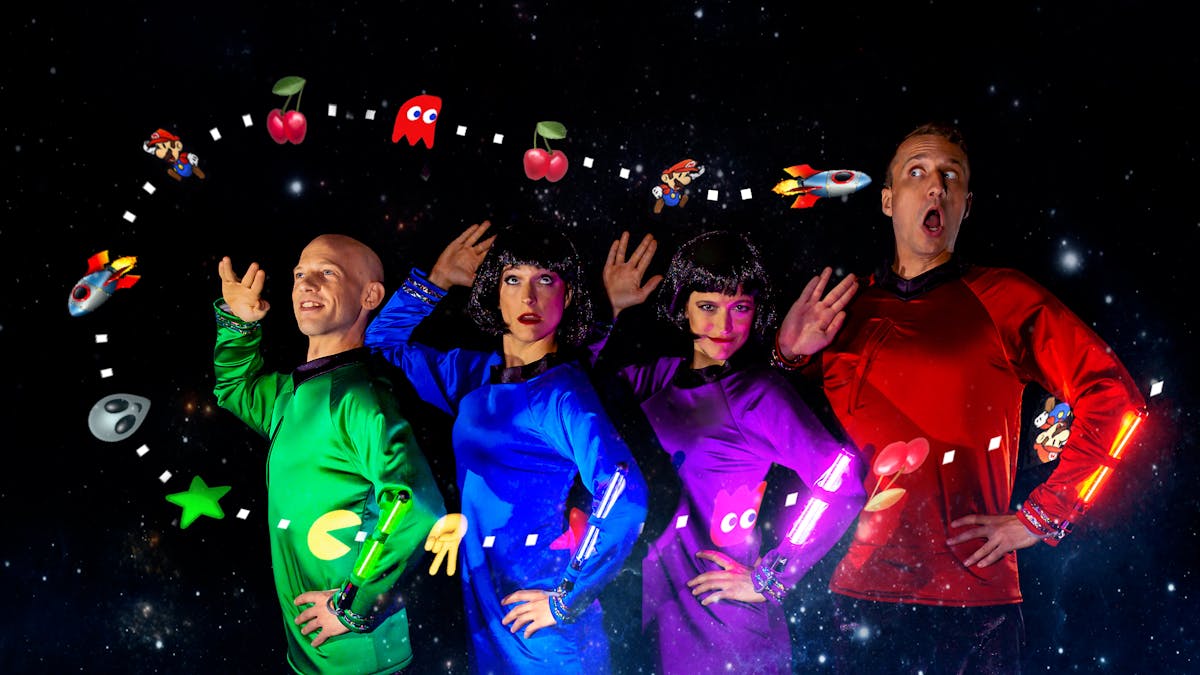 LED-Lightshow "Spacemania"
Science fiction LED show with surprising light effects for the extraordinary show highlight
Description
The 4 space travelers of LOOOOP embark on a journey through a multiverse of entertainment.
This LED show experience has original and unique choreographies, a varied soundtrack and LED props programmed to the point. This show makes multiple references to well-known scenes from the universe of film, computer games, and famous memes.
Lightsabers are drawn, Tetris blocks fall from the sky, and the sun is suddenly surrounded by moving stars. 
Info
IDEAL FOR corporate events, galas, public events, Christmas parties, variety shows, indoor events.
SHOW SOUNDTRACK DURATION  11 min
PERFORMERS 4
STAGE 4m deep x 6m wide x 4m clear height
LIGHT The stage area and especially the stage background should be as dark as possible. In addition, coloured stage lighting is desirable for the atmospheric illumination of the stage.
LOGOS Individual customer logos can be integrated as desired.
LOOOOP inspired the audience at the 2017 Künstler gegen Aids (Artists against AIDS) gala at the Stage Theater des Westens (Stage Theater of the West) with a never before seen LED show. The guests were delighted by the dazzling effects that are possible with this special technique. Rousing applause erupted when the artists conjured up the logo of the Berlin Aids-Hilfe and the Red Ribbon on the stage as a sign of solidarity with HIV-positive people. We thank LOOOOP for their contribution!
Contact
Please use our booking form for a non-binding and free offer or send us an email with your wishes and information about the event. We would be happy to send you an offer and get back to you immediately.
Contact
Christina Lange
bookings(at)loooop.de

Phone: +49 (0) 176 63 15 35 90