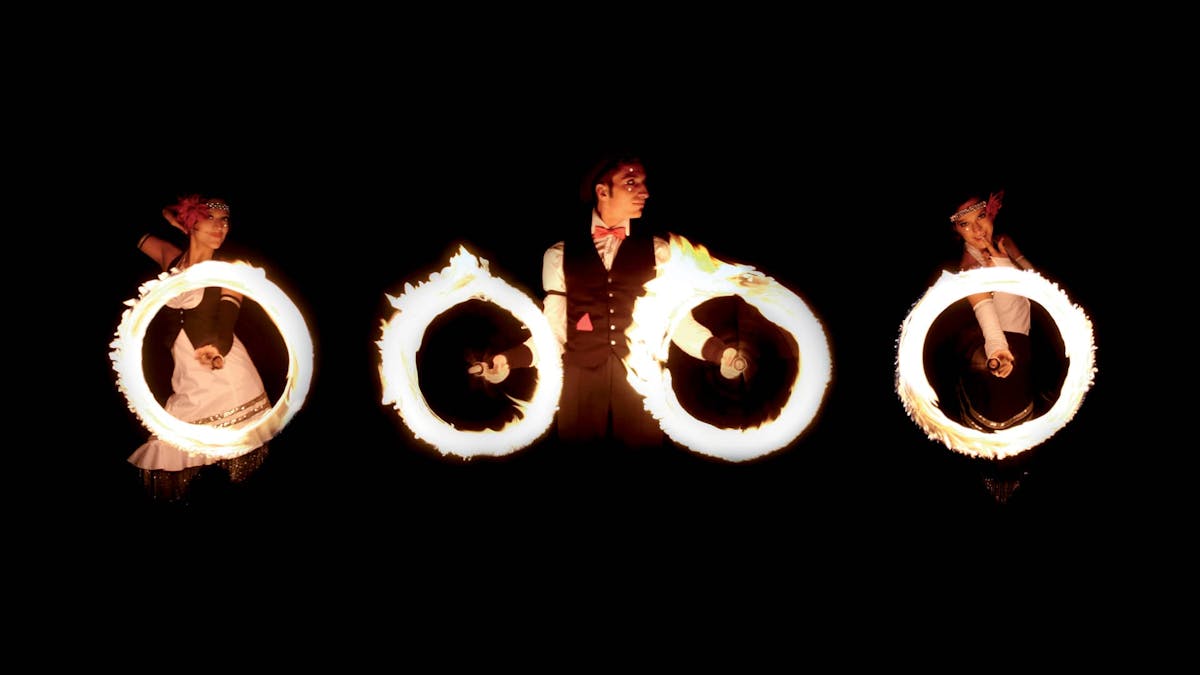 Fireshow "The Golden Twenties"
A rousing fireshow with flying sparks
Description
The golden twenties: An age of glamour and joie de vivre. Style combines with the risqué, old and new merge into something extraordinary. This is also the case in the enchanting show "The Golden Twenties" by LOOOOP. Here, two ladies and a gentleman rekindle the glamour of the Golden Twenties.
With their impassioned, flaming charm, they invite audiences to share in their fiery dance. At times the diva plays with a blazing fire hoop to rousing electric swing, while at others, monsieur presents his most dangerous tricks or confidently asks his female counterparts to dance the tango with him. An extravagant evening full of spectacular fire art!
Info
IDEAL FOR town fairs, cabaret festivals, weddings, 20s events, company parties, big stages and stylish events.
DURATION 20 Minutes
PERFORMERS 3
STAGE 6m depth x 8m width x 4m free space above
LIGHTS Colourful stage lights is recommended
LOGOS Individual customer logos can be integrated as desired.
INDOOR & OUTDOOR are both possible and recommended
"It is a pleasure to experience three LOOOOP'ies on stage: poetic, sensual and with lively freshness - enchant them with their fire show and elevate the play with the art of fire poi. Simply inspiring! "
Contact
Please use our booking form for a non-binding and free offer or send us an email with your wishes and information about the event. We would be happy to send you an offer and get back to you immediately.
Contact
Christina Lange
bookings(at)loooop.de

Phone: +49 (0) 176 63 15 35 90